Trial of father charged in baby's death underway | News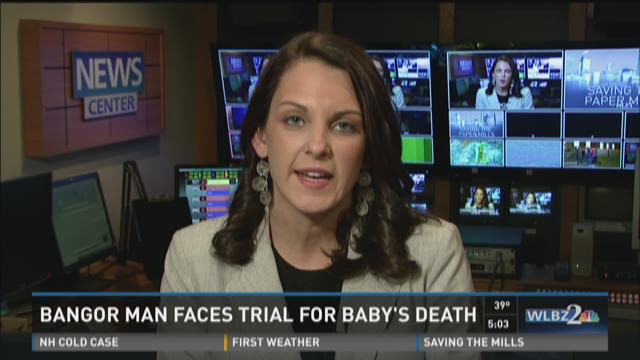 BANGOR, Maine (NEWS CENTER) -- A judge's trial of a Bangor man charged in the death of his 3-month-old son began Tuesday morning. 
    
Dustin Brown was 18 when his son died nearly three years ago. Bangor police say they responded to the home for a baby who was not breathing back on Nov. 25, 2012. The infant was taken the hospital, where he later died. Brown told police the baby went limp during a feeding, but an autopsy indicates the infant, Xander Brown, died from trauma.
The prosecution said Brown's son, Xander, was born prematurely but did not have any medical issues when he was brought home. They also said witness heard a thud from the bedroom where Brown and the baby were in. After that, they could not hear the baby cry. The prosecution then describes Brown coming out of the bedroom with Xander limp in his arms. 
Brown told the infant's mother that when he went to burp the child, his head hit Brown's chin and he jerked him. Prosecution said, "Dustin Brown was left alone with Xander, and that's when he acted negligently." 
For the defense, Hunter Tzovarras defended Brown, stating, "Brown did not cause the death of his son, and that there is a 'medical mystery' here." The defense goes on to say that unfortunately, Dustin was the last person to be with the baby, while he was alive, but states Brown called 911 and then tried performing CPR on his son. Defense added that the medical examiner can't tell who inflicted the injury. 
The first witness to take the stand was Jared Bowden with Bangor Fire Department. Bowden was a paramedic, who responded to the 911 call made by Dustin Brown. He says he was called to the home or an unresponsive infant, who was not breathing and said upon arriving he saw the infant lying on the kitchen table and father [Dustin Brown] performing CPR. 
In a cross-examination, Bowden said fluid coming out of infant's nose equal to the consistency of formula, made it hard to give the child oxygen.
During the trial, the state called Alaina Cain, the mother of Xander, to the stand. Cain said the two met at Bangor's adult education, she was 14 at the time. Cain told the judge that she became pregnant with Dustin's child when she was 15 years old. On the stand, Cain said while their son Xander was in the hospital, Brown visited "maybe once." The proscecutoin presented a picture of baby Xander to the courtroom, but there was no emotion from the child's mother or father
Manslaughter carries a maximum sentence of 30 years in prison. 
Contributing information from Associated Press.